An American Art Double Take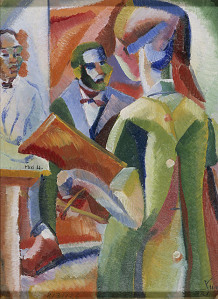 Yun Gee,
Artist Studio
, 1926, purchased with funds provided by Mr. and Mrs. Robert B. Honeyman, Jr. and Mrs. James D. Macneil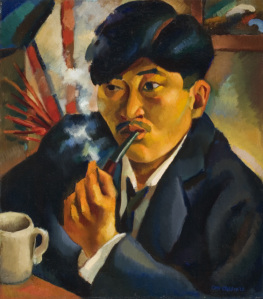 Otis William Oldfield,
Portrait of Yun Gee
, 1926, purchased with funds provided by Dr. and Mrs. Christian Title and Carey Nachenberg
Using bold colors and modern forms in his prismatic studio scene, Gee has depicted Hayakawa at work on one of her portraits from her series of single figures of different races. His is a modernist vision of the sitter in front of the red drapery and posing before Hayakawa's easel, on which we see her canvas (to which he even added her signature "Miki H.") and on it the image of the African American model taking shape in her realist style.
A noted portraitist, Oldfield taught both Gee and Hayakawa. Oldfield collaborated with Gee to found the Modern Art Gallery, the first artists' cooperative in San Francisco, and painted his student the year Gee founded the Chinese Revolutionary Artists Club, which instructed Chinese art students in Western artistic methods. Acquired together in 2004, these interconnected paintings reveal the little-known camaraderie and diversity of the talented community of modern artists working in the Bay Area as early as the 1920s.

Austen Barron Bailly was Assistant Curator & Associate Curator of American Art, at LACMA until 2012.  She is currently Chief Curator at the Crystal Bridges Museum of American Art in Bentonville, AK.